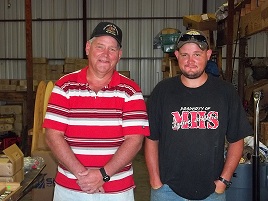 Thank you to all our past and present customers who have been helping to make this business grow. Trap prices have inched up on us, some mainly due to rising steel cost. Thankfully the fur market looks promising again this coming season. As in the past we're glad to deliver orders at conventions we'll be attending to help you save the shipping. Please be sure to get your convention orders in early, space is limited.
We've added several new items this year, check them out and let us know what you think by phone or e-mail. We strive to get your order filled and shipped within 24 hours of when we receive it. Anytime we can be of help, give us a call.
May your traps be full and your knife sharp,
Jeb Hollingshead, Owner

---
Shipping and Handling Chart - Continental United States
Up to $40.00 add $9.90
$41.00 to $100.00 add $14.90
$101.00 to $250.00 add $22.90
After $250 call for freight estimate
Due to rising shipping costs we can no longer ship orders to Hawaii, Alaska, Canada or a foreign country.
If an order is placed on the website and shipping is outside the continental United States,
the order will be cancelled and your money refunded.
Please accept our apologies for any inconvenience this may cause.